Back
St. Anthony's Provides Free Showers and Laundry to Meet Critical Need
FOR IMMEDIATE RELEASE
Press Contact: Cori Brosnahan | Marketing Communications Manager
CBrosnahan@stanthonysf.org | (415) 592-2835


SAN FRANCISCO (November 1, 2021) – Responding to a dire lack of basic water access for people experiencing homelessness, St. Anthony's has opened a Hygiene Hub, where guests can shower, use the restroom, and do their laundry in a safe, calm environment. Housed in St. Anthony's building on 150 Golden Gate Avenue, the new facility promises to be a game-changer, providing 20,000 showers and 10,000 laundered loads annually. As Hygiene Hub Service Lead CC McKneely-Bolds says, "Everyone has the right to water.
Unfortunately, many are denied that right. According to a survey St. Anthony's conducted in 2017, seven out of ten unsheltered guests do not have safe, regular access to a shower or restroom, and eight out of ten do not have safe, regular access to laundry service. The Hygiene Hub has been enthusiastically received by the community. Brian C., who's been living on the street for five years, said that he usually has to find a sink to wash up in, and was thankful to have this option. Hjalmar B. said he had been feeling a little tired and dirty, and the shower was just what he needed. When asked about the water temperature and pressure, Anne A. said that "everything was perfect."
The Hygiene Hub is the latest development in St. Anthony's mission to connect people experiencing poverty and homelessness with basic water access, which became even more restricted as shops, restaurants, and public buildings closed down during the COVID-19 pandemic. Last year, St. Anthony's worked with the city of San Francisco to install a potable water station on the street so guests could wash their hands and refill water bottles. When CEO Nils Behnke noticed a guest using the station to wash himself, he realized that more was needed. "We wanted to find a solution that respects our guests' humanity," says Behnke.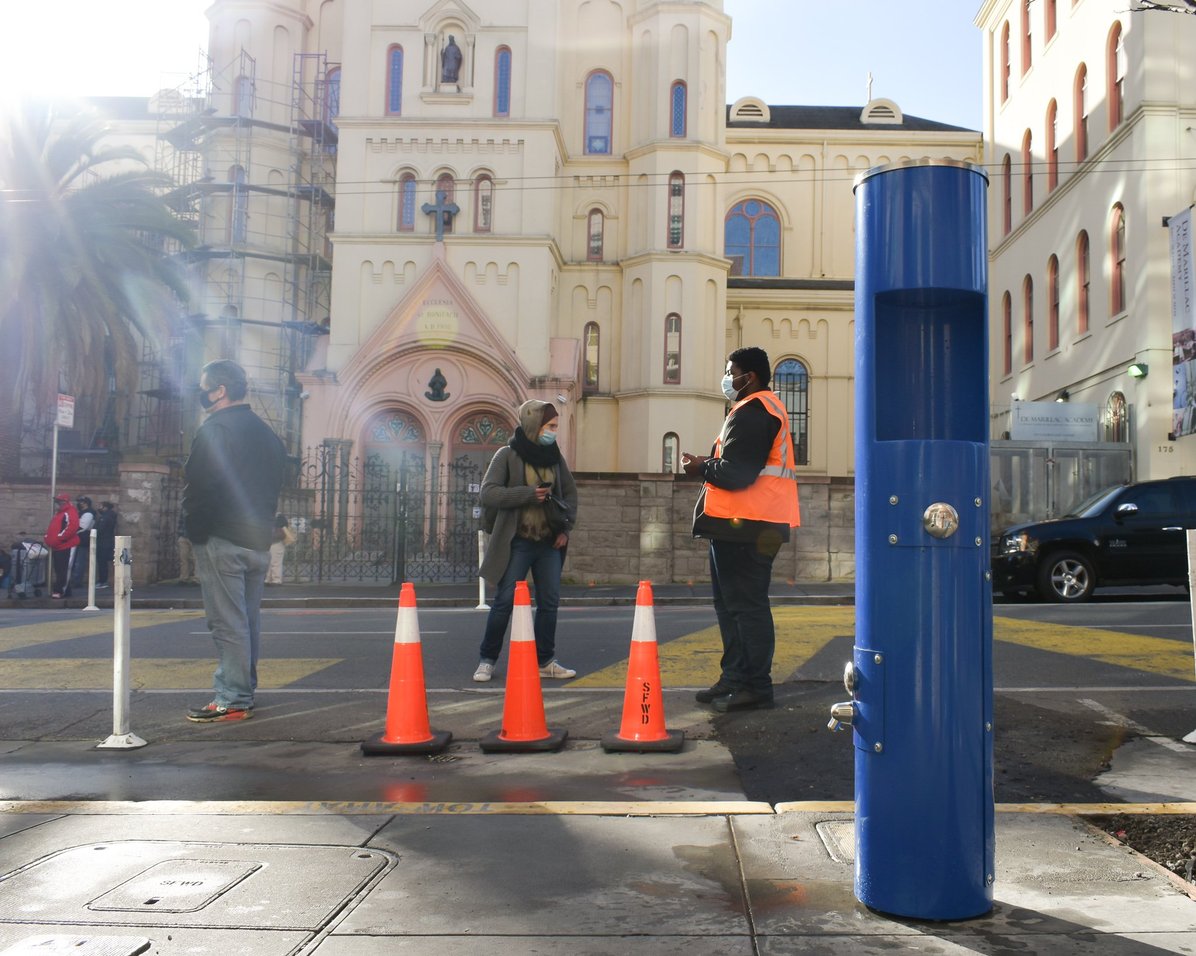 Nibbi Brothers General Contractors built the new facility, which features three unisex showers that guests can use for up to 15 minutes at a time, and four washer-dryer machines. Staff are also able to connect Hygiene Hub guests with other St. Anthony's services, including the Medical Clinic and Free Clothing Program. All of this is provided in a calm, nurturing environment, where guests can relax and leave feeling refreshed and uplifted. "Our bathrooms are beautiful," says Service Lead McKneely-Bolds. "They're spa-like. People go in there and they're like, 'This is for me?' We want them to have the best."
About St. Anthony'sFounded in 1950, St. Anthony's is the most comprehensive safety net service center in San Francisco, directly providing food, clothing, medical care, addiction recovery services, access to technology, job training, and other critical resources to the community. Every day we support and are supported by thousands of San Franciscans. Everyone who comes through our doors joins the St. Anthony's family and helps us create a future where all people flourish.